Often a HotDoodle web page may have a complex structure of blocks that is desired on multiple pages all with different content. For example, a travel agency might have a page of Brazil destinations and want the page of Alaska destinations to have the same layout. Instead of having to create each page and add each block individually, HotDoodle created a way to automate the task. The Copy Button Block can be added to the HotDoodle website to speed up the production of these pages. To use, create a template page by adding all the blocks in the layout desired, but omitting the content. The Copy Button Block will make a copy of that empty template page and place it in the website where specified. If the template page can also be assigned the permission of an example user.
Steps: How to Use the Copy Button Block
1. Add a page to the website. See: Add a Page and Sub-page
2. Add container blocks to create columns on the page as desired. See: Create Columns
3. Add blocks with the correct settings, but no content on the web page. See: Add a Block
4. Click on the "Store Room" of the website.
5. On the HotDoodle Toolbar, click on the "Block" tab.
6. Click on the "Add Block" button.

7. On the webpage, click on the "Add Here" button where the Flash/YouTube Block will display.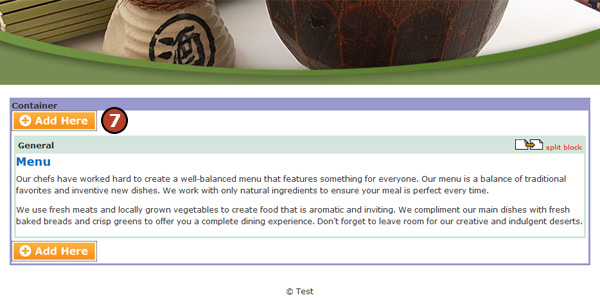 8. Click on the "Copy Button" block.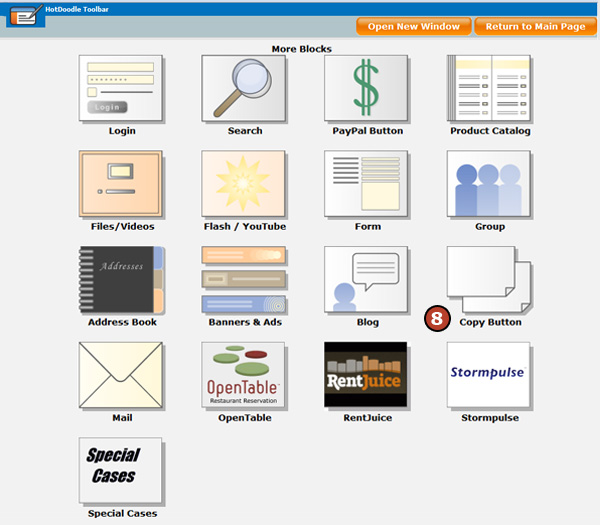 9. Click on the "Insert this block" button.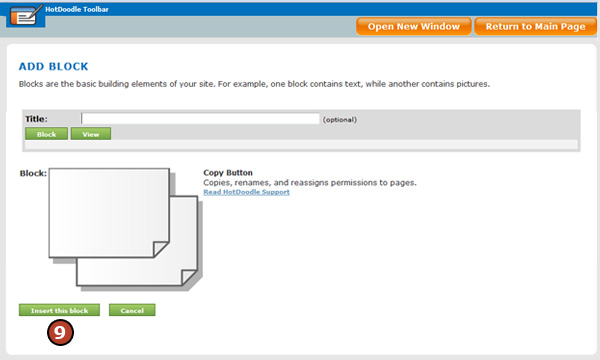 10. Type in a title for the Copy Button.
If no title is selected, the button will read "Copy Page".
11. Select the copy settings:
Copy this page - Select the template page created to copy.
Under this page - Select a web page to list the copied pages under.
New Page Name - Select a new name for the page or leave blank to name the page later.
Copy Rights of - Select a user to copy the rights of to assign permissions to the page.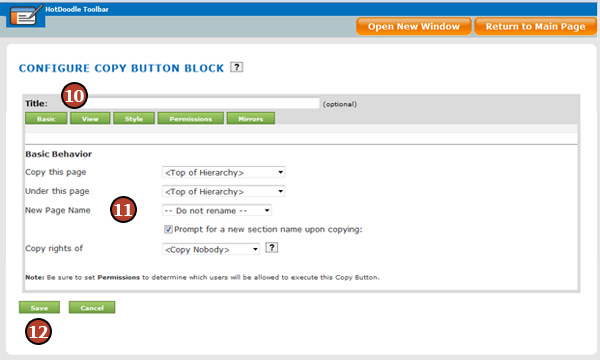 12. Click on the "Save" button.
13. Click on the "Copy Page" link.

14. Type in a name for the new page.

15. Click on the "Save" button.